This time last year, after Derek Jeter won his 5th Gold Glove I said that it would be the
last time that I would write about the award
, and in some respects it is, but I just can't help myself.
While the Gold Glove should come down to simply one thing - being a great fielder, the award has taken a life of it's own and really comes down to a variety of factors, other than fielding. Last year I listed those factors:
Hitting. To win a Gold Glove you have to hit. Jimmy Rollins was always a solid fielder but he had to hit 20+ doubles, triples, and home runs to get noticed for his fielding in 2007.

Familiarity. If Player A was worthy last year, he has to be this year! Contrary to what seems to be the popular belief, players have up and down years in the field just like they do at the plate.

Laziness. Just a total lack of effort. Derek Jeter is often "voted" the most overrated player in the league, by people in the league. So, how can those people vote him for the best fielder, when everyone around baseball KNOWS that he's not? They're lazy.

Year(s)-After-Effect. Franklin Gutierrez won the Gold Glove this year even though it was in 2008 and 2009 where he was truly magnificent. It takes a while for the chatter about an under-the-radar fielder to make its way around, and often when he's finally selected he's not necessarily deserving. Gutierrez deserved it in years passed, but this year Brett Gardner should have won it. Expect Gardy to take the hardware home next year, regardless if he plays well in the field or not.

Team Goodness. Forgive my phrasing, but a team has to be good often times for someone to win the award. The Yankees had 3 Gold Glove winners this year (Jeter, Teixeira, Cano) even though you can make a case that neither deserved it.
Regarding the 2012 Gold Glove Award winners I wanted to talk about the Yea(s)-After-Effect - Brett Gardner deserved the award last year so I felt he would appropriately receive the award this year, regardless of how he played. Well, Gardner didn't win the Gold Glove, but it wasn't because he didn't deserve it, and we can look at the chart below (courtesy of
Mark Simon at ESPN
) to prove it: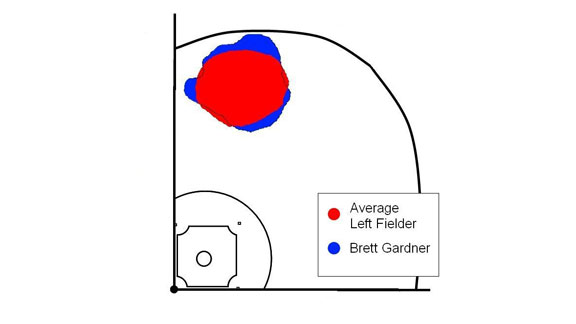 In case it isn't obvious, the red represents the range of an average left fielder and the blue represents Brett Gardner's range. Notice how much more blue there is than red, to my eye it looks like that is certainly Gold Glove deserving. I'm not sure I can say it any better than Mark Simon, so I won't even try - "Brett Gardner got robbed." Here's to hoping Brett Gardner wins the 2012 Gold Glove, but I promise for sure this time, that it's the last time I will talk about the award.