The
2013 Baseball Hall of Fame Ballot
has been released by the Baseball Writers Association of America which means two things:
A lot of bickering on the internet.
A splendid analysis of everyone on the ballot by yours truly.
A reminder of how outdated the BWAA website is.
If you're interested in my previous ballot, check it out
here
.
Sandy Alomar Jr.: No. For a four-year stretch in the 90's, on those awesome Cleveland teams Sandy Alomar Jr. was a very solid, albeit part-time catcher. From 1994-1997 Alomar Jr. averaged a .294/.332/.478 line. Very solid from the catcher position but unfortunately Alomar Jr. didn't achieve much after that. However, since 2009 Alomar Jr. has been a coach on the Indians so there is still plenty of time for him to get a managerial position, win a bunch of World Series titles and enter the Hall as a coach. Maybe.
This is gross.
Jeff Bagwell: Yes. This will be Bagwell's third year on the ballot. In 2011 Bagwell received 41.7% of the votes and last year that was upped to 56%. It's an encouraging trend but it's a shame that it's even a
discussion as Bagwell is simply one of the best and most dynamic first basemen to ever play the game. Although he played in the "steroid" era his career OPS+ (which adjust for league and park effects) was an astounding 149. He has a Rookie of the Year award and a MVP. The 1994 strike also cut short one of the best seasons ever by a first basemen. In 110 games Bagwell batted .368/.451/.750. His OPS+ was over 200 (213), a number that's only been topped by Babe Ruth, Barry Bonds, Ted Williams, Rogers Hornsby, Lou Gehrig and Mickey Mantle. Pretty good company. His per 162 games played would have given Bagwell 57 HR, 170 RBI and 153 Runs. Nobody enters the Hall of Fame because of one season (Roger Maris) but Bagwell was great his entire career, he deserves to have a speech at Cooperstown.

Craig Biggio: Yes. If the writers were waiting for Biggio to get on the ballot before voting in Bagwell so the two of them could enter together then I will forgive them for shamelessly leaving Bagwell off. Anywho, back to Biggio...Although he was more of a stats accumulator in the second half of his career, Biggio was still a fantastic player deserving to enter the Hall with 3,060 hits 291 HR, 414 stolen bases and an OPS+ of 112. From 1993-1999 Biggio averaged .303/.397/.473 with 116 runs, 17 HR, 73 RBI and 34 SB. Not bad.
A slimmer Bonds
Barry Bonds: Yes. Barry Lamar Bonds' chances lie in how the voters feel about those pesky little steroids. I personally don't put my moral hat on and blame players for using substances that they had every incentive
to use but I guess to each his own. Before using steroids Bonds' was the best player in the game and after using steroids Bonds was the best player of all time. We all know about his fantastic resume but here are some interesting tidbits:
In 2004 Bonds was intentionally walked 120 times. In 2012 Adam Dunn led all of baseball with 105 walks.

From 2001-2004 Bonds averaged .349/.559/.809.

Bonds has 7 MVPs with three coming from 1993 or earlier.

In his last season at age 42 in 2007 Bonds had a .480 OBP, an OPS over 1.000 and a 169 OPS+.

Bonds has 514 stolen bases which is more than Roberto Alomar, Eric Young, Delino Deshields and Ichiro.
Hey voters, please get off your high horse and vote the guy in.
Jeff Cirillo: No. On Colorado in 2000, Jeff Cirillo had 53 doubles and he didn't lead the league because his teammate Todd Helton had 59. Cirillo was a two time all-star, knew how to get on-base and seemed to be an all around good guy but a Hall of Famer he is not.
Royce Clayton: No. Clayton played for 17 years in the big leagues on 11 different teams which is quite an accomplishment but probably not quite as cool as playing Miguel Tejada in Moneyball.
Roger Clemens: Yes.
The pitching version of Barry Bonds and like Bonds, one could make a case that Clemens is the best at his position of all time and a likely Hall of Famer if his career ended before taking steroids. At this point debating the
legitimacy of Clemens' Hall of Fame case is boring, really boring. A more exciting topic is debating Clemens vs. Maddux.
Who do you choose?

Jeff Conine: No. The Marlins have never won a title without Mr. Marlin himself so one has to wonder if the Marlins would break up the team this year if they had a 46-year old Conine chilling in the dugout. In 2001 on the Orioles Jeff Conine hit .311 with 14 HR, 97 RBI and 12 steals. In 2002 a naive Ben Pasinkoff drafted him onto his fantasy team thinking he could repeat that. In 2003 Ben felt vindicated when Conine belted 20 HR with 95 RBI. In 2004 Ben stopped thinking about Jeff Conine until now.
Steve Finley: No. In 2004 some people complimented the Angels for signing a 40-year old Steve Finley to a two-year $14 million deal to play CF instead of spending all of that money on Carlos Beltran. A few years later Finley was out of baseball. Steve Finley was a good player who went to Arizona in his 30s in 1999 with Luis Gonzalez and put together the best run of his career. Like Luis Gonzalez he's not a HOFer but 300 career home runs and over 2,500 hits is nothing to sneeze about.
Julio Franco: No. I was pulling for Julio to play until he was 50 years old but he only managed to play until he was 48 years.
Franco played in parts of 23 seasons, coming up as a shortstop on the Phillies and Indians and finishing as a pinch hitting first basemen on the Braves.
There are many players who have had better careers than Julio Franco but I can't imagine many who have had a more interesting one.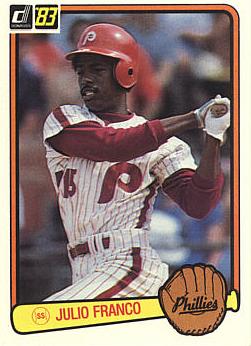 After the strike in 1994, a 34 year-old Franco went to play in Japan, returning to the major leagues for the 1996 season. In 1997, now at 38 years of age, Franco looked finished and returned to Japan for the 1998 season. In 1999 Franco managed to get one at bat with the Tampa Bay Devil Rays (as they were called at the time) but was back playing ball overseas, this time in South Korea in 2000. The following year, a 43 year old Franco was in the Mexican League batting .437 with 18 HR in 110 games which was good enough to get back to the Majors this time with the Atlanta Braves. Franco was then with the Braves as a defensive replacement and pinch-hitter until 2005. For the 2006 season the Mets did a move that only the Mets would do, handing out a 2-year contract to a 47 year old player. Franco played on the Mets in 2006 and was released the following year before finishing up with the Braves in 2007.
Considering he played until age 48, Franco's career average of .298 is quite impressive.
If nothing else, Franco's story deserves to be told in Cooperstown. #NeverForget
Shawn Green: No. As a Jew who played RF and fantasy baseball, it's hard to come by a cooler player to root for then Shawn Green. While he shouldn't make the Hall, Shawn Green should take solace in the fact that he's in my personal Hall of Awesome.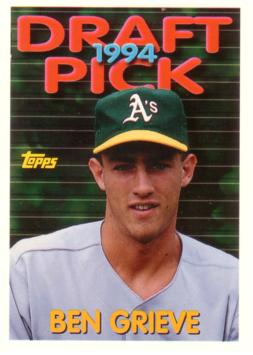 I thought this would
make me rich.
Roberto Hernandez: No.
Since Ben Grieve and I shared the same name and played the same position, you could imagine how much I loved him as a kid. I made sure to collect ALL of his baseball cards. Especially the rookie cards, I loved the rookie cards because he was going to be a star and I was going to follow his
coattails
to the bank. After winning the ROY in year 1998 I held onto my Ben Grieves for dear life. He was going to be a star. At least until he was traded to Tampa Bay in a three-team deal to Kansas City that got Johnny Damon to Oakland. Then Ben Grieve was mediocreand I grew up and stopped collecting baseball cards. So is life.
What does this have to do with Roberto Hernandez? He was involved in that three-team trade, and his connection to my former favorite player is the most interesting part of his career. For me.
I have this card somewhere.
Ryan Klesko: No. Ryan Klesko was ranked the 3rd best prospect in Baseball America's Pre-1991 Rankings. In their Pre-1994 Rankings Klesko was ranked 15th. In 1994 Klesko finished third in the ROY voting putting up a solid 130 OPS+ in 92 games. In 1995 Klesko only played in 107 games but hit. 310/.396/.608 with a 158 OPS+ at age 24 and also hit 3 home runs in the World Series for the Braves . Klesko seemed to have star potential but unfortunately was never able to stay on the field for 150 games and only made one all-star game in his career (2001 with San Diego). Klesko finished his career batting .279/.370/.500 with a 128 OPS+ over the course of 16 seasons, which is pretty darn good but will sadly go down in history as a forgotten slugger.
Kenny Lofton: No.
But gosh
darn it
did I almost say yes. It was really a
coin-flip
although I never actually flipped a coin. Lofton finished his career hitting .299/.372/.423 with
2,428 hits. His 66.2 fWAR ranks 14th all time among center fielders and ahead of Carlos Beltran and Andre Dawson. Lofton set the table for those superbly awesome Indians lineups in the 90s that I mentioned with Sandy Alomar Jr. and at his peak, Lofton was one of the most exciting players in the game leading the league in steals from 1992-1996. Like so many other players, Lofton's best season was cutoff in 1994 when he hit .349/.412/.536 with 60 SB in 112 games. You just don't see too many 20 HR/80 SB seasons (Ricky Henderson in 1985 and 1986; Eric Davis 1986). While I wish this won't be the last time we talk about Kenny Lofton and won't argue with anyone who puts him on their ballot, he just missed the cut for me. I obviously don't have a vote but you are only allowed to vote for 10 players and with this being Lofton's first year I have to pass.
Edgar Martinez: Yes. Yes, Edgar played DH but I don't know of any rule that precludes someone from making the Hall of Fame if they didn't play the field. If Edgar played in the NL or simply butchered it at 1b, we wouldn't care and we would gush about his hitting stats. I say we just cut to the chase and just gush about his hitting stats. Check for yourself.
Don Mattingly: No. Donnie Baseball is a Hall of Fame nickname and I'd like to think it's the grandfather of Johnny Football.
Whole milk > Skim milk
Fred McGriff: No. As I said last year, I don't believe in arbitrary milestones to merit automatic inclusion into the Hall, so even if The Crime Dog had 500 HR I still wouldn't put him in. However, speaking of Hall of Fame nicknames, The Crime Dog might just top the list. And there is always this.
Mark McGwire: Yes. I can only judge a player for what they did on the field and Mark McGwire, although incredibly one-dimensional, was one of the best ever at that dimension - 583 HR and a 162 OPS+.
Jose Mesa: No. In 1995 Jose Mesa saved 46 games with a 1.13 ERA. He finished 2nd in the Cy Young Award voting and 4th for MVP. By 1997 he was no longer closing games. Then from 2001-2005 from ages 35-39 Jose Mesa saved 36 games a year for the Phillies. Lesson: Relievers are pretty fickle.
Jack Morris: No. If you want to believe that a pitcher would pitch to the score, hurting his ERA and his earning potential that's fine. I don't and I don't believe Jack Morris is a Hall of Famer.
Dale Murphy: No. This is Murphy's last year on the ballot and with only 14.5% of the vote last year it looks like his only chances will be with the Veterans Committee. The Hall of the Very Good
Only you can prevent forest fires.
Rafael Palmeiro: No. His Viagra commercial isn't the main reason why I wouldn't vote him in but it certainly didn't help. I take Fielding practice, I take hitting practice, I take Viagra...and steroids. Still, I'm not holding it against him that he was caught with steroids, I prefer peak value to longevity and Palmeiro was a very solid 1b for many years, but not quite good enough to make it for me.
Mike Piazza: Yes. Piazza should be remembered for being one of the best hitting catchers of all time and having to say that he's not gay.
Not that there is anything wrong with that
. Piazza might be one of the worst fielding catchers and base runners we've ever seen but he also has the most HR and the highest wRC+ at the position. Gay or not and regardless of his
bacne
, he's a Hall of Famer.
Tim Raines: Yes. I feel that Tim Raines is like Kenny Lofton but 5% better, so he makes it onto my ballot.
If you need to be convinced that he's worthy,
check this out
.
Reggie Sanders: No. Along with Steve Finley mentioned above, Reggie Sanders is one of six players to have 300 HR and 300 SB. Along with Steve Finley, Reggie Sanders isn't a Hall of Famer.
Curt Schilling: Yes. It's an understatement to say I'm not his biggest fan but he's also one of the best pitchers of all time. If you care about Wins and Losses to the point where you won't vote in Schilling then you are simply missing the point and probably want Jack Morris in Cooperstown. Schilling ranks 19th of all time with 86.1 fWAR and is 11-2 with a 2.23 ERA in 133.1 post season innings pitched.
Aaron Sele: No. Aaron Sele threw 2153 innings with a 100 ERA+. He is the definition of the average pitcher.
It's so real!
Lee Smith: No. When Smith first came on the ballot he had the most saves of all time. Now he's third. Either way, he wasn't a Hall of Famer.
Sammy Sosa: No. It's easy to lump Sosa and McGwire together, but McGwire was clearly the better
hitter. In 2,236 fewer plate appearances McGwire has 388 more walks. A young Sosa did add a lot of value in the field and a little on the base paths, but he more or less hit home runs and nothing else. Sosa's career OPS+ is 128. Adam Dunn? 126.
Mike Stanton: No. Giancarlo Mike Stanton might be here in 20 years but the lefty doesn't belong.
I have this in my attic. I think.
Alan Trammell: Yes. We can't hold SS to the same standards as other positions. Trammell is one of the best at the position of all time and deserves it.
Larry Walker: No. Much like the past two years, this was a tough one but I have to pass. It's also required to mention his 1997 season:
366 average, 49 homers, 130 RBI, 143 runs and 33 steals. #FantasyGold.
Todd Walker: No. In 1996 at AAA Todd Walker hit .339 with 28 HR. In 1998 Todd Walker became the Twins starting second basemen and hit .316/.372/.473 at 25 years old. Walker stuck around for a while longer playing subpar defense and hitting about league average at second, but he never surpassed his first full season.
David Wells: No. David Wells pitching for the 1998 Yankees was easily the pinnacle of my Yankees child-like fandom. After going 18-4 I was shocked that the Yankees would trade Boomer, Graeme Lloyd and Homer Bush for that Roger Clemens guy. Homer Bush! After hitting .380 in a grand total of 71 at bats, twelve year old Ben was convinced that Homer Bush was the future. When he hit .320 the following year on Toronto I was even more convinced. When he hit .215 in 2000 as the Yankees won their third consecutive World Series, I was happy we had the Rocket. Still, Homer Bush!
Rondell White: No. A tools-y top prospect who never quite put it all together but still had a 15-year career as an above average regular. Not bad.
Bernie Williams: No. Bernabe had a Hall of Fame-esque peak --from 1995-2002 he hit .321/.406/.531 with a 142 OPS+ for many a championship team. However, Bernie basically fell apart after age 33 which isn't uncommon but his peak, although very solid, simply wasn't good or long enough. However, if one wants to give credit to post-career music success, then Bernie is a first balloter.
Woody William
s: No. Williams threw 2,216.1 innings with a 103 ERA+. He's 3 % better than the average pitcher. Or 3% better than Aaron Sele.
Recap:
Yeses: Bagwell, Biggio, Bonds, Clemens, Edgar, McGwire, Piazza, Raines, Schilling, Trammell
Close Calls But Nos: Kenny Lofton, Larry Walker
Why the F*ck are you on the ballot: Mike Stanton